^

Apples through the generations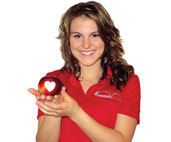 Founded in 1955 by Pierre Richard Cataphard, the company started out with a modest orchard of 1 000 apple trees. In 1974, Guy Cataphard took over the management of Vergers Cataphard and the company took off, paving the way to it becoming one of Quebec's leading apple producers.
Today, Vergers Cataphard covers some 67 hectares of land and produces no less than 12 different apple varieties! The company sells more than 6 million pounds of apples each year and boasts a warehouse capacity of 200 000 boxes.
The third generation of the Cataphard family, Martin, Sylvain and Stéphane Cataphard, continues the company's longstanding tradition of excellence and growth. In 2010, they developed a tasty invention: apple syrup. Thanks to this patented process, apple lovers may now delight in a delicious and healthy product, extremely low on the glycemic index and extremely high on flavour!
Sales of the company reach more than 6 million pounds of apples annually.
Our storage capacity is 150,000 boxes of apples.